Florida Keys Barracuda Fishing Charters
Lower Keys and Key West Barracuda Fishing Charters
Ready to do battle with the "Tiger of the Flats?
Barracuda frequent the flats of Key West and the lower Keys backcountry and are an absolute BLAST to target on light tackle or fly!
These fish range from under a pound to upwards of 30 pounds and make blistering runs when hooked on light tackle fishing equipment!
Best Time of Year to Catch Barracuda in Key West and the Lower Keys
The cooler months of the year are best for targeting 'cudas on the flats but they're present all year long and can be targeted with both artificial lures and live bait.
Fishing white sand potholes on the flats can be one of the most productive ways to "sight cast" for barracudas – as well as blind casting green tube lures.
And did we mention that these speed demons can be target on fly as well? Trust us…hooking an adult barracuda on fly gear will test both your tackle and skills!!
Lower Keys Barracuda Fishing Charters with Capt. Craig
Capt. Craig Clopper of Goliath Charters Key West loves to put both experienced anglers and novices onto barracudas – and the kids LOVE them!
Not only do they get to test their skills against the fish, but they make for great photos with their "toothy smiles"!
Come down and fish the waters of Key West and the lower Keys and get hooked up with one of these lightning-fast torpedoes!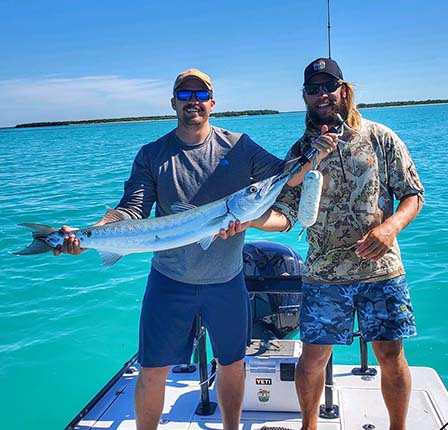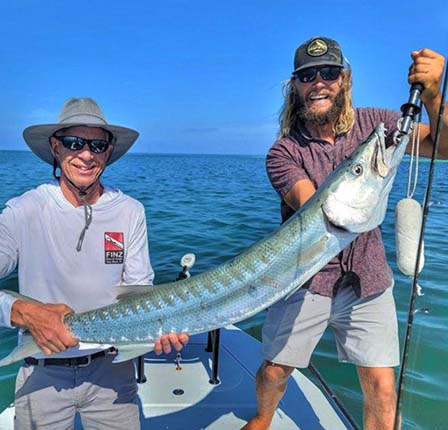 ADVENTURES
starting at $400
From half to full-day fishing charters & adventure tours on the waters of the Lower Florida Keys – We've got you covered!
HEAR WHAT OUR CUSTOMERS SAY!
"Captain Craig with Goliath Charters is the premier captain of the keys! Every trip out with his charter has been an absolute blast. Bucket list catches , drag screaming action, and expert knowledge are what makes Captain Craig the gold standard of Charter Captains."
"I am still buzzing from an absolutely amazing guided trip with an extremely knowledgeable and personable captain that offers the coolest experience in catching dinosaurs. if you're interested in fishing the florida keys in the most memorable way do not hesitate to book Capt Craig Clopper!"