Key West Bonefish Charters
Lower Keys and Key West Bonefishing Charters
Bonefish (aka "ghosts of the flats") are one of the most sought after shallow water & flats species on the planet! And lucky for us, our backyard in the Lower Florida Keys is home to good numbers of bonefish!
In fact, bonefish can be caught in the backcountry and ocean-side flats of the Lower Keys and Key West year-round on live bait, artificial lures and fly!
Best Time of Year to Catch Bonefish in Key West and the Lower Keys
Bonefish can be caught all year long in Key West and the lower Florida Keys backcountry. However, these silver bullets do prefer the warmer months from March through July when water temperatures are at their warmest.
That being said, some of the largest bonefish of the year are caught in the fall months, with October being especially productive for big "bones"!
Bonefish are typically target on the flats, where our Hell's Bay Boatworks skiff excels at putting anglers on wary fish cruising or tailing the shallows!
We target these fish with live bait, artificial lures and when conditions are right – they can be caught on fly as well!
Lower Keys Bonefishing Charters with Capt. Craig
Capt. Craig loves to fish the backcountry and oceanside flats for bonefish and the stealthy nature of stalking and putting Clients on that's required!
Book a charter with Goliath Charters Key West and let Capt. Craig help you check "bonefish" off of your bucket list!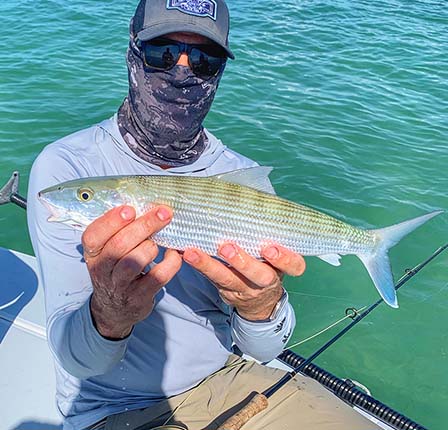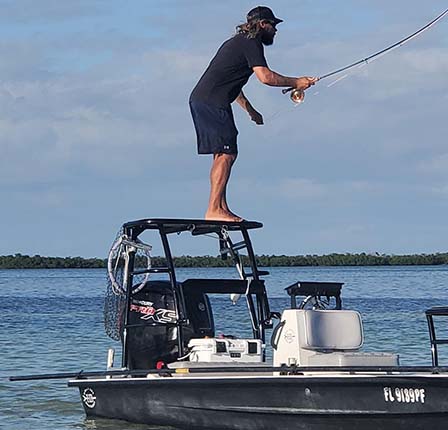 ADVENTURES
starting at $400
From half to full-day fishing charters & adventure tours on the waters of the Lower Florida Keys – We've got you covered!
HEAR WHAT OUR CUSTOMERS SAY!
"Captain Craig with Goliath Charters is the premier captain of the keys! Every trip out with his charter has been an absolute blast. Bucket list catches , drag screaming action, and expert knowledge are what makes Captain Craig the gold standard of Charter Captains."
"I am still buzzing from an absolutely amazing guided trip with an extremely knowledgeable and personable captain that offers the coolest experience in catching dinosaurs. if you're interested in fishing the florida keys in the most memorable way do not hesitate to book Capt Craig Clopper!"