Florida Keys Goliath Grouper Fishing Charters
Lower Keys and Key West Goliath Grouper Fishing Charters
Catching a Goliath Grouper in Key West and lower Florida Keys is a bucket-list fishing charter for most! These behemoths are the largest fish in the seabass family and can be caught from just a few pounds up to several hundred pounds!
And did we mention, Capt. Craig is a goliath grouper specialist and lives to put his clients on these tackle-busting beauties?
Best Time of Year to Catch Goliath Grouper in Key West and the Lower Keys
Goliath Grouper can be caught year-round in the waters surrounding Key West and the lower Florida Keys. And are often caught in the backcountry mangroves as well as around structure in deeper water such as rock piles, reefs, wrecks and bridges.
Mostly targeted with live bait and sturdy tackle, Capt. Craig can just about guarantee a hook-up with a goliath on his Key West backcountry fishing charters!!
Lower Keys Goliath Grouper Fishing Charters with Capt. Craig
Capt. Craig Clopper fishes the lower Keys and Key West backcountry flats and mangroves for goliath grouper year-round. As this is one of his all-time favorite fish to target – he's truly become a "goliath specialist" and would love to share his passion with you!
From experienced anglers to novices and kids, Capt. Craig will help you create fishing memories that last a lifetime!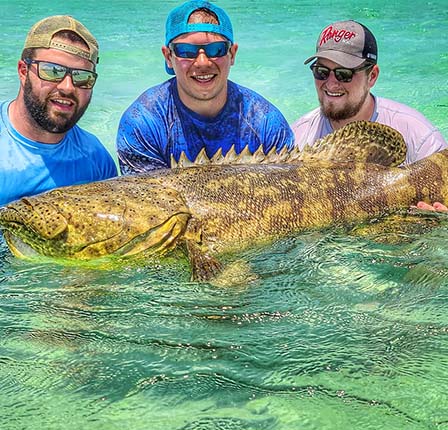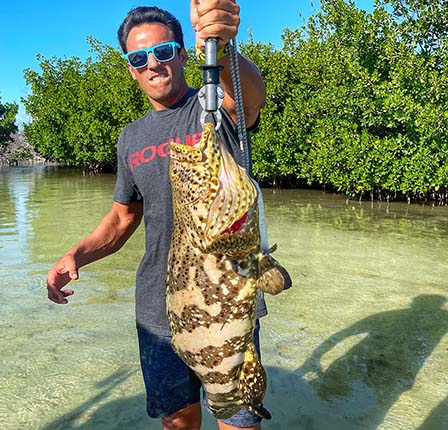 ADVENTURES
starting at $400
From half to full-day fishing charters & adventure tours on the waters of the Lower Florida Keys – We've got you covered!
HEAR WHAT OUR CUSTOMERS SAY!
"Captain Craig with Goliath Charters is the premier captain of the keys! Every trip out with his charter has been an absolute blast. Bucket list catches , drag screaming action, and expert knowledge are what makes Captain Craig the gold standard of Charter Captains."
"I am still buzzing from an absolutely amazing guided trip with an extremely knowledgeable and personable captain that offers the coolest experience in catching dinosaurs. if you're interested in fishing the florida keys in the most memorable way do not hesitate to book Capt Craig Clopper!"